Teeth Whitening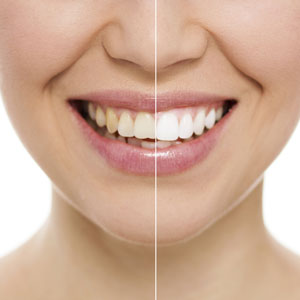 As we age, tooth discoloration can become an unfortunate thing that many of us experience, and darkened, stained or yellow teeth become the norm.
Sometimes, it's not just a result of drinking coffee, teas or sugary sodas-some antibiotics can cause tooth discoloration, as well as drinking mineralized water, experiencing excessive dry mouth and eating a highly acidic diet.
Fortunately, there's an easy fix for yellow or stained teeth-teeth whitening, offered in the comfort of our practice.
In just one 40-minute visit to our office, you can brighten your teeth several shades, and leave feeling more confident in your smile.
How In-Office Teeth Whitening Works
When you book a teeth whitening appointment for an in-office session, we'll begin by cleaning your teeth and placing the ZOOM whitening gel on them. Then, a blue light will be placed near your mouth to activate the gel-this will take about 30-40 minutes. After, we'll clean the gel off of your teeth and you'll be ready to go!
The process is simple and requires you to just sit back and relax during a session. You're free to watch a show on your phone or listen to music.
While some patients may experience slight sensitivity immediately after a session, this should subside in just a couple of hours. With proper care and oral hygiene, your results can last more than a year.
In addition to in-chair whitening services, we can also make custom whitening trays for you, which allows you to whiten and maintain your results from the comfort of your own home with the advanced ZOOM system, available exclusively through our practice.
Custom Whitening Trays
Professionally fitted take-home whitening kits work well for people who want to whiten on their own time and be able to touch up their results. These custom-molded trays hug your teeth and keep the professional gel directly against your enamel, allowing for optimal and even results.
For your initial whitening treatment, it's best to wear the trays for at least an hour a day for 10-14 days in a row. The length of the time can vary, depending on the concentration of the bleaching gel we recommend. Some can be worn overnight.
We recommend storing your whitening gel in a cool dry place when not in use. After every checkup, simply wear your trays for a few sessions to boost your smile's brightness.
Advantages of Whiter Teeth
Brighter teeth tend to look healthier and more youthful. Investing in professional teeth whitening is an affordable way to boost your smile's appearance without additional cosmetic treatment. Whitening works well as a stand-alone aesthetic enhancement or to compliment other upcoming cosmetic procedures (like white fillings, porcelain crowns or dental veneers). The lighter your teeth are, the brighter shade of restorative materials we can use in your planned treatment(s).
Teeth Whitening FAQ
How well does teeth whitening work?
You can brighten your teeth by several shades. Everyone's smile is different. Keep in mind that it's not possible to bleach dental fillings or crowns, only natural teeth. Whitening gel works best on recently cleaned teeth, after surface stains and tartar have been cleaned away.
Will whitening make my teeth sensitive?
Your teeth may feel sensitive for a few days after whitening them. To help, we suggest using a desensitizing toothpaste such as Sensodyne leading up to, during and after your whitening treatment.
How long will my whitening last?
Teeth can naturally absorb stains from things like smoking or drinking red wine, especially if you don't brush and floss as often as you should. To keep your smile bright, we recommend coming in for regular checkups every six months.
Is there an age requirement for teeth whitening?
Teeth whitening products are best for patients who are at least 18 years or older.
It's important to visit us for a screening prior to using teeth whitening products. A bleaching agent should never be applied if you have active tooth decay or gum disease. Additionally, any dental work in your smile zone may need to be updated, since they'll retain their current color.
Book Your Visit Today
We'd love to see you in the practice soon. If you'd like to achieve a whiter, brighter smile, feel free to contact us for your first appointment. We look forward to welcoming you into our care.
Get started today!

Teeth Whitening Casa Blanca, Riverside, Chino Hills CA | Melody Dental Care