Dental Implants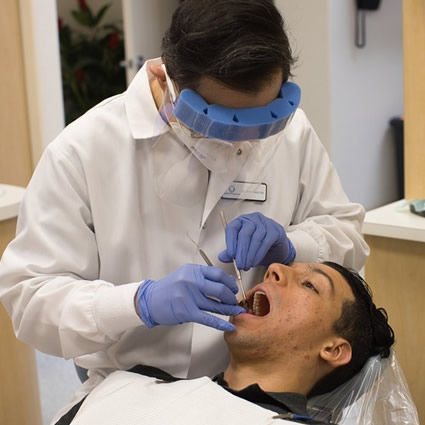 Dental implants are a natural-looking restoration that mimics the anatomy of real teeth. Their design functions like an anatomical tooth, making it possible to restore your smile without altering the structure of your healthy, adjacent teeth.
What are Dental Implants?
An implant is a restoration that functions like a natural tooth root. When it's set into the bone, it allows us to replace missing teeth without removable prosthetics or reshaping the teeth next to the missing one. Some of the advantages of implants include
Non-invasive to adjacent teeth
Easier to clean than a dental bridge
Look and feel like natural teeth
Ability to last a lifetime
High success rate
Predictable and comfortable placement
Implants are made out of biocompatible materials that bone structure is naturally attracted to. As a result, the bone attaches to it and bonds the implant permanently into place.
Types of Implant Restorations
Implants are so durable that they're able to support the weight of multiple teeth. We can use an individual implant to support a porcelain crown for single-tooth replacement or implants can be used in pairs to anchor a multi-tooth dental bridge. In some situations, as few as 4-6 implants can support a full-arch hybrid prosthesis.
The majority of our dental implant treatments are for single tooth replacement (with an implant and crown) or replacing 2-3 teeth with a pair of implants and a bridge.
If you look hard enough, you'll find cheap dental implants. But the significantly lower price tag is often attributed to sub-par materials and low-budget systems that aren't as durable. This scenario can create a dilemma where the implant is more likely to fail or need to be replaced.
Dr. Nguyen uses Nobel implant systems. Nobel's higher quality allows for a more predictable outcome and quality treatment during each implant case. The brand's proven materials offer the best results, whether you're replacing a single tooth or all of them at once.
Dental implant treatment is easy and nearly painless. The minimally invasive procedure involves creating an opening in your gum and bone (everything is numbed with local anesthetic) and then installing the implant down into this space that we create. Then the tissues are sutured back into place so that the implant can integrate with your bone. Integration is what provides the stability and success of the implant structure.
After your implant is fully integrated 4-6 months later, Dr. Nguyen will uncover the implant, attach an abutment and then bond your permanent restoration into place.
If we're replacing a missing front tooth, Dr. Nguyen can provide a temporary aesthetic option (during the integration phase) to fill in the space until it's time to attach your permanent implant restoration.
Candidates for dental implant treatment include healthy bone structures in that area, healthy gums and adjacent teeth, as well as no serious underlying medical conditions. Smoking can also affect your case success. Generally, the biggest risk for implants is peri-implantitis, which is a form of gum disease. With good oral hygiene you can help protect your implant and smile's health.
How long will my implants last?

With proper care, implants can last much longer than a decade. You'll need to maintain proper oral health habits and be sure to visit us for your six-monthly appointments.
Will the color be the same as my other teeth?
Absolutely. Your implant will be color matched to your teeth so it looks extremely natural.
How long will it take to get my new implant?
We're proud to be able to do everything for your implant in the comfort of our own practice, including placing the implant. An implant typically requires a couple of visits to our practice to ensure you get the fit and look that you want. We don't want to rush the implant process as it requires precision to ensure a wonderful result for you.
Can I still floss between my implant and natural teeth?
Yes! An implant is different from a bridge in that way. You'll be able to easily floss around your implant just as you would with your natural teeth. Be sure to stay up to date with your visits to our practice and maintain regular oral hygiene.
How much does an implant in Riverside cost?
Because each implant case is unique, the cost will depend on how many implants you'll be getting. At your first consultation with us, we'll be able to give you a better idea of how much your implant(s) will cost. We're proud to offer in-house payment plans and accept Care Credit.
Are Implants Covered by Insurance?
Some dental insurance plans do cover implants and implant restorations. As an in-network provider, we'll work with your carrier to help you maximize the benefits you're entitled to. Plus, we offer flexible payment options for any implant services that aren't included in your coverage.
Who is a good candidate for an implant?
You're a good candidate for an implant if you have a broken, dead or missing tooth and have the necessary jawbone structure intact to support the implant. We'll let you know if you meet that requirement at your first visit with us. If not, don't worry-there are other options for getting the smile of your dreams.
Does dental implant treatment hurt?
Dental implants can be placed without feeling much of anything other than a slight amount of pressure. The entire procedure can be completed with a small amount of local anesthetic (numbing medication.) Most people say that getting implants is even easier than having a tooth removed.
How should I care for my dental implant?
Plan to treat your implants the same way you would a natural tooth. Brush and floss them daily to keep the surrounding gum tissues as healthy as possible. With good oral hygiene and regular dental checkups, you should be able to enjoy implants that last the rest of your life.
Can dental implants fail?
If you lose an excessive amount of bone around your implant or the gums become infected, it could lead to loss of structural support around your dental implant. Fortunately, both of these disease conditions are preventable with good oral care. Properly maintained implants have the best long-term life expectancy of any modern dental restoration.
Am I a candidate for dental implants?
Dental implants work best for adults who have healthy gum and bone tissues. Each person's candidacy is determined on a case-by-case basis. We recommend schedule a dental implant consultation to find out if you qualify. After a brief exam and X-ray, we can determine your eligibility and provide you with an itemized care plan, including pricing information and financing options.
Contact Us
Request a consultation today. Find out if dental implants Riverside are right for you. Request an exam with Melody Dental Care today.
CONTACT US »

Dental Implants Casa Blanca, Riverside, Chino Hills CA | Melody Dental Care