Emergency Dentistry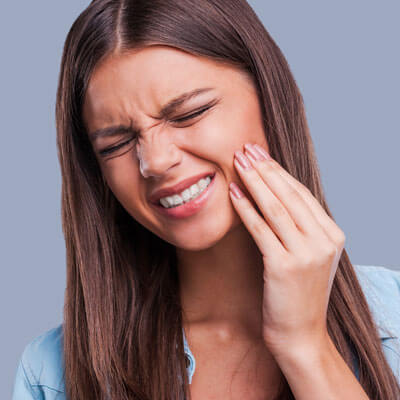 If you're a current patient and dealing with a dental emergency, we want you to know that we're here for you.
Each day, we reserve time slots for unexpected emergency appointments, because we understand that's how life works! In a best case scenario, you want to try to get to our office within the next 1-2 hours if your emergency involves a knocked-out tooth. If you have a broken or chipped tooth, avoid chewing on that side of your mouth until we can see you for an appointment.
While a dental emergency isn't fun, we take pride in being able to offer you the support and treatment that you need at a moment's notice.
Typical dental emergency visits may be booked for:
Chipped, broken or knocked out teeth
Root canals
Extractions
Excessive tooth pain
And more
How do you know if it's truly an emergency? If the situation is preventing you from going about normal activities – like working, going to school or being able to eat – then you need to see an emergency dentist.
Frequently Asked Questions
Should I visit your practice or the emergency room for a dental emergency?
If you are experiencing extreme bleeding or swelling and pain, we recommend visiting the emergency room to make sure you don't need immediate medical attention-it's always better to be safe than sorry. For patients who need attention regarding broken teeth, root canals and pain, please contact us for a visit.
If I've never been to the practice before, can I book an emergency visit?
Unfortunately, we like to have a record on file for patients who need to book emergency visits. New patients are welcome to schedule a new patient appointment and we'll do our best to get you in as quickly as possible to help alleviate any pain you're in and develop the care plan that best fits you.
Are you open on Saturdays for emergency appointments?
Yes! We are open on Saturday's for emergency visits and new patient visits or regular appointments. Simply give us a call for availability.
What should I do for a dental emergency?
You may take ibuprofen and apply a cold compress to the area to help manage any pain or swelling before we're able to see you.
What should I do if I knock out a tooth?
Call our office immediately. The sooner you seek out care, the more likely it's possible to reimplant your tooth. The key is to keep your tooth moist by storing it in a container, completely submerged in milk. Do not use tap water if possible but if you do, add a pinch of salt. There are also over-the-counter "tooth saver" kits made for storing knocked-out teeth.
What happens if I have an after hours emergency?
When you call our office, leave a message. It will get pushed through to one of our staff who is monitoring the line. From there, one of us will be in touch as soon as possible. We'll walk you through what to do or which medicine to take until you can get to our office the next business day.
What are the most common emergencies you treat?
Emergency tooth extractions and root canal treatments are the most common urgent scenarios we see in our practice. Fortunately, the majority of dental emergencies can be avoided through routine preventative care and treating cavities as early as possible.
Will I need a pain medication?
Inflammation or swelling is typically the leading factor when it comes to toothaches. Taking an over-the-counter anti-inflammatory such as Motrin or ibuprofen as directed can buy you some time before you get to our office for emergency treatment. The need for a prescription pain medication is usually quite rare.
Schedule Your Appointment
If you're a current patient and dealing with a dental emergency, we encourage you to give our practice a call to book an appointment swiftly.
We look forward to assisting you in your time of need.
Give us a call today!

Emergency Dentistry Casa Blanca, Riverside, Chino Hills CA | Melody Dental Care