Restorative Dentistry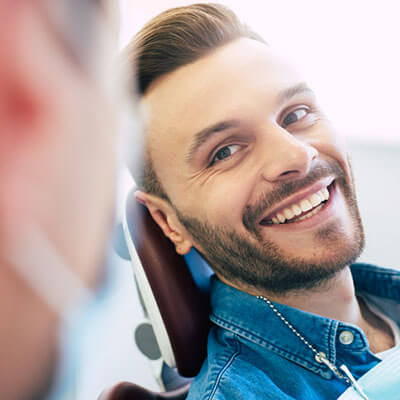 Restorative dentistry refers to the replacement of missing or damaged teeth. With this type of dental care, the objective is to bring back your natural smile and prevent any oral health issues in the future.
The Importance of This Type of Dentistry
Whether you elect to get crowns and bridges, implants or dentures, these all can fill in those empty spaces in the mouth to help keep teeth in proper alignment. By replacing teeth it's easier to maintain good oral hygiene habits to help prevent plaque buildup and the problems that can result.
Crowns and Bridges
Do you have a tooth that's broken, chipped, decayed or missing? If yes, you may be a candidate for a crown and bridge. A crown is often referred to as a cap, which fits over your natural tooth to improve its appearance and function.
Using our state-of-the-art CEREC machine, we can make crowns in-house. Thanks to this technology, the entire process can be completed in one appointment.
A dental bridge, which connects to a crown, provides extra support to ensure that your dental work can last a long time.
Dental Implants
If you're seeking a natural-looking restoration that has the appearance and function of real teeth then consider dental implants. These restorations are extremely durable and long-lasting, making them an excellent investment.
Dentures
Thankfully, the dentures of today are not at all like the ones worn by your grandparents. Modern dentures are more comfortable and natural-looking. We can provide partial dentures if you are missing one or more teeth. If you have many teeth missing or if all of your teeth are missing, full mouth dentures may be an ideal solution for you.
Tips for Taking Care of Your Restorations
Brush your teeth twice a day for at least two minutes each time.
Floss around your teeth, dental implants, crowns, and bridges at least once a day.
Avoid chewing on crunchy or sticky foods. These can damage your restoration.
Book a Consultation
If you'd like to restore your smile with one of our high-quality solutions, contact us today to schedule a consultation.
CONTACT US »

Restorative Dentistry Casa Blanca, Riverside, Chino Hills CA | Melody Dental Care