Artistic Dentistry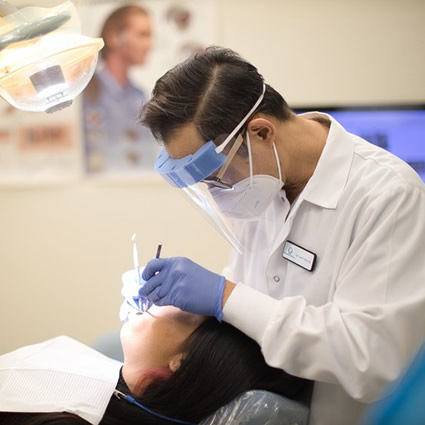 I'm a bit obsessed when it comes to things looking as natural and real as possible…so as I add in the extra details it might make treatments take a little bit longer, but they'll look better in the end." Dr. Jimmy Nguyen
Dr. Jimmy Nguyen has always had an eye for detail. As someone who appreciates art and spends time painting and drawing, he incorporates that same level of design when it comes to restoring his patients' smiles. We believe it's just as important for restorations to look natural as it is for them to be durable. The high quality artistic results are nothing less than what Dr. Nguyen would expect for his own oral health.
What is Artistic Dentistry?
When it comes to restoring areas of decay or enamel damage, filling materials are applied and shaped by hand. As Dr. Nguyen forms the material to the tooth, he also recreates the anatomical characteristics of the tooth for that specific location. For instance, the grooves, pits and biting edges of a filling ought to look as if it's a natural tooth, rather than a smoothed-over white filing. That way when you look at the restoration up close, it's challenging to differentiate it from your anatomical tooth structure.
Since Dr. Nguyen spends a bit more time adding in the finer details of our restorations, it can slightly add to the appointment length (but not by much). The trade-off is worth it, because the long-term advantages of your restoration will allow you to smile with confidence.
We incorporate artistic techniques into a variety of both therapeutic and cosmetic restorations, such as
White (composite) fillings
Porcelain dental veneers
Dental bonding
Tooth recontouring
Ceramic dental crowns and bridges
No. Smile makeovers and cosmetic dentistry cases are specifically meant to help our patients who feel self-conscious about their smiles to regain their confidence in the way their teeth look. On the other hand, artistic dentistry is a concept that Dr. Nguyen incorporates into every restorative procedure.
For example, if we're restoring an area of tooth decay that's further back in your mouth, that surface probably won't be noticeable when you're smiling. But the level of detail that goes into your filling will make it so that no one should realize you've had dental work done. That way we can restore areas anywhere in your smile zone without detracting from your overall appearance.
We can combine artistic restorations with traditional cosmetic dentistry procedures to give you the best overall results. Dr. Nguyen provides high-detail, high-quality artistic dentistry at a price you can afford. We're an in-network provider with most major insurance plans and also provide flexible payment options.
During your procedure, you'll have the option to tune things out by watching a movie or requesting gentle nitrous oxide sedation. Dr. Nguyen is happy to pause the treatment at any time, should you need a short break. We want you to feel as relaxed as possible, whether you're just getting a filling or need something more complex, such as root canal therapy.
Request a Consultation
Contact Melody Dental Care today to request an appointment to learn more about artistic dentistry Riverside. Be sure to ask about our $89 new patient special.
CONTACT US »

Artistic Dentistry Casa Blanca, Riverside, Chino Hills CA | Melody Dental Care