Cosmetic Dentistry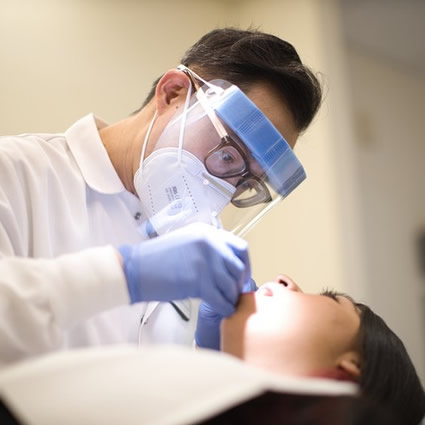 Dr. Jimmy Nguyen is an artist at heart. Although he incorporates artistic dentistry into every service, he takes things above and beyond when it comes to our patients' smile makeovers.
Through cosmetic dentistry, it's possible to regain your confidence and feel proud of the way your teeth look. That way you'll never be hesitant to smile in photos or laugh around friends. Whether you're looking for whiter, straighter or recontoured teeth, we'll have an option for you to consider.
Partnering with Our Patients
Pursuing a smile makeover is a personal journey. We want to take your goals, preferences and opinions into account when it comes to transforming your appearance. From the first visit, we'll be your partner in discussing what options are possible to make your vision a reality.
Even if there are issues such as areas of decay or missing teeth, we can incorporate restorative treatments with other aesthetic services to give you the perfect overall look.
Types of Cosmetic Treatments
Depending on your situation, Dr. Nguyen may recommend a specific procedure or combination of treatments to achieve the appearance you're trying to achieve. Some of the more popular cosmetic dentistry services we offer include
Teeth Whitening – Safely brighten your smile to remove years of discoloration and stain. Professional whitening treatments provide faster, stronger results than products you can find online or in stores.
Porcelain Veneers – Instantly change the way your smile looks with a set of custom veneers. A veneer is a thin layer of porcelain that we bond over the front of each tooth in your smile zone, making it appear straighter, whiter and properly shaped.
Crown Lengthening – Short teeth or "gummy" smiles can be healthy but aesthetically unattractive. By reducing the height of your gum tissues, it's possible to lengthen the tooth or have room for a crown/veneer.
Tooth Contouring – Uneven enamel can cause just one tooth to detract from your overall smile. Adjusting the smoothness of its contours is simple, minimally-invasive and can be completed in one appointment.
Dental Bonding – Quickly reshape and cover small flaws such as chipped enamel, gaps between teeth or atypical surface textures. The composite bonding blends in with the tooth around it.
Tooth Colored Restorations – From ceramic crowns and bridges to white dental fillings, Dr. Nguyen will restore your tooth in a way that strengthens your bite and enhances the overall appearance of your smile.
One of the things Dr. Nguyen does that sets our office apart is providing a "wax up" prior to starting cosmetic dentistry treatment. A wax up is a preview of your proposed aesthetic restorations on a model of your actual mouth. That way you see exactly what we're proposing and can have additional input if you'd like something changed. Want to adjust a certain area? We can do that! Your wax up model makes the smile transformation process one that fits your priorities and expectations.
If we're incorporating aesthetic restorations to repair areas of damage or decay, your dental insurance may pay for a portion of your procedure. Otherwise, we also provide flexible payment plans that easily fit your monthly budget!
Request Your Consultation Today
For quality, handcrafted cosmetic dentistry Riverside, request your first visit to Melody Dental Care now. Be sure to ask about our new patient special offer!
CONTACT US »

Cosmetic Dentistry Casa Blanca, Riverside, Chino Hills CA | Melody Dental Care