Dental Services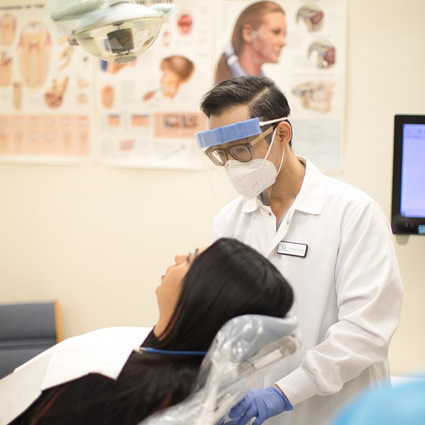 As a whole-family practice, Dr. Jimmy Nguyen provides comprehensive smile care for every stage of life. Your entire family is welcome at Melody Dental Care! Our diverse menu of services allows us to help you prevent common dental diseases, aesthetically enhance natural teeth and restore areas that require professional attention.
By providing family dentistry services it's easier than ever for everyone in your household to access high-quality care under one roof.
Dental Care
Artistic Dentistry – Dr. Nguyen's artistic approach to everyday dental care ensures you have the best-looking results to blend in with your surrounding smile. His keen eye for detail is evident in every service we offer!
General Dentistry – From routine dental exams and X-rays to comprehensive restorative care, we're here to ensure a relaxing experience. When areas of decay, wear or missing teeth interfere with your smile, our quality restorations get your oral health back on track. Choose between options like white fillings, porcelain crowns, bridges, dentures and more.
Emergency Dentistry – While a dental emergency isn't fun, we take pride in being able to offer our current patients the support and treatment that they need at a moment's notice.
Endodontics – Gentle root canal therapy can preserve your infected or damaged tooth so that it doesn't have to be extracted. Your comfort is essential to us! If you're in pain or have an abscessed tooth, endodontic treatment can provide long-term relief.
Oral Surgery – Tooth removal and wisdom teeth extractions help manage pain and preserve the health of your surrounding smile. Most extractions are completed in-house. Nitrous oxide inhalation sedation is available upon request.
Periodontics – Gum disease can damage your smile and increase the severity of underlying medical conditions. Treating periodontal infections early can reduce your chances of tooth loss.
Dental Implants – Predictably replace your missing teeth with a permanent dental implant. Implants resemble natural teeth and are non-invasive to the healthy ones you still have. They're safe, easy to care for and can last a lifetime.
Cosmetic Dentistry – Transforming your smile can give you a renewed sense of self-confidence and a reason to smile again. Our custom veneers, bonding, recontouring, whitening and crown lengthening options give you multiple solutions to choose from. Every smile makeover case includes a "wax up" preview before you start the treatment process.
Orthodontics – SureSmile® clear aligners offer our adult patients an invisible, comfortable alternative to traditional metal orthodontics. Plus, you can watch a digital preview of your tooth movement before ever committing to treatment.
Pediatric Dentistry – Children's dental visits are important from an early age. Not only do they familiarize your child with the dentist (for reduced anxiety later on) but ongoing preventative care helps keep their smile healthier for life. We encourage an appointment by the time your child's first tooth erupts!
Preventative Dentistry – Routine checkups and cleanings help you reduce your risk of tooth decay and gum disease. Do you suffer from teeth grinding? We can also fit you with a nightguard to preserve your smile's integrity.
Your Comfort is Important to Us
Working at your pace is an integral part of helping you feel comfortable. If you ever need to pause and take a moment to rest during a procedure, we encourage you to let us know. We also provide gentle sedation with nitrous oxide, making it easier to relax during your planned procedure.
For family dental services Riverside, request an appointment today. Be sure to ask about our new patient special.
CONTACT US »

Melody Dental Care Services