Dentures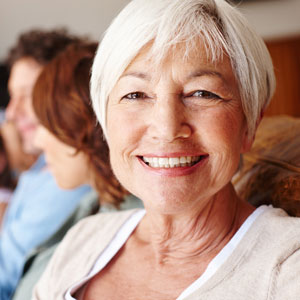 At our practice, we believe in creating beautiful smiles for patients of all ages-including seniors who may require full or partial dentures to rejuvenate their smile.
When you choose us for your care, you can rest easy knowing you're in skilled, artistic hands who want to help you achieve your smile goals.
In fact, each patient that we welcome will receive the utmost care and respect as we move through the denture process, and we encourage you to give us your thoughts along the way-at the end of the day, we want to craft a smile for you that's comfortable, functional and that you'll love for years to come.
Typically, a complete denture visit to our practice requires roughly five appointments. The first, a consultation, followed by scans and x-rays. Next, we'll provide a wax mockup so you can see what your final result will look like. On the fourth visit, we'll place your dentures into your mouth to make sure they fit well and feel comfortable. On the final visit, we'll permanently place them.
If you have one or multiple missing teeth, partial dentures may be an option for you. Partial dentures involve creating a few false teeth where your teeth are missing to help keep the integrity and function of your smile. Since the partial only replaces the teeth that are missing, it can use your surrounding teeth for added support and stability. This design allows for a streamlined, slimmer shape than a full denture.
Depending on the material selected, partial dentures may be able to be removed at night. If your dentures involve implants, they will be fixed in your mouth just as a natural tooth would be.
Full mouth dentures involve either completing dentures for the lower jaw, upper jaw or both. For patients who are missing many or all teeth, this is sometimes the best option. During this process, we'll evaluate your bone strength as it's important to have proper jaw integrity to support them. Full dentures can be removed each night and easily cleaned in a solution.
Dentures rest directly against your gum tissues, creating a suction between the "plate" and your mouth. A well-fitting denture should last for 5-10 years. However, it's natural for your bone to change shape over time. If you notice that your denture doesn't fit as well as it used to, we can adjust or re-line the base to establish a comfortable seal once more.
They'll also look and function just as your natural teeth would.
We'll create a wax-up version of your denture to try in before the permanent version is designed by the lab, to ensure you're thrilled with the way they look and feel.
Your dentures should be removed each night. It's important to not sleep in your denture overnight, as it could lead to an infection or excessive bone loss.
We recommend soaking them in a denture cleanser to loosen debris, then brush them clean the next morning. You may even want to invest in a personal ultrasonic cleaning unit (similar to what some people use to clean their jewelry) to make the process more effective. Be sure not to use hot water, as the high temperature could cause the acrylic to warp.
Plan to book a checkup each year to have your denture fit and soft tissues evaluated. Occasional adjustments or re-linings will help your denture fit securely and comfortably. Most people need to have theirs re-lined at least once every 5-10 years.
Financing Plans Available
Dentures provide one of the most economical solutions for fast tooth replacement. Even without dental insurance, affording dentures is an option for most people. Our office provides flexible financing options that allow you to make low monthly payments, so that you don't have to wait to begin the denture design process.
Are Dentures Right for You?
If you're wondering if dentures are right for you, we'd love to meet with you and discuss your options to ensure you get the perfect treatment for your smile. We're happy to accept a variety of insurance plans and also offer payment plans to accommodate the needs of all patients.
Get started with your first visit today!

Dentures Casa Blanca, Riverside, Chino Hills CA | Melody Dental Care